Ovarian Cancer Surgery Options
The treatment for ovarian cancer typically involves surgery. Your Virginia Oncology Associates cancer specialist will talk with you about the types of surgery and make a recommendation for what would best for you. Ovarian cancer surgery can done in one of the following ways:
Open surgery requires an incision large enough for the doctor to reach inside and touch the area of operation.
Laparoscopic surgery requires only a few small incisions. The surgeon operates by manually manipulating long instruments that are viewed with a tiny camera attached to one instrument that sends images to a video monitor to guide the surgeon during the procedure.
The da Vinci robotic surgery is used when advised at Virginia Oncology for ovarian cancer treatment and is similar to laparoscopic surgery in that it is also minimally invasive, uses small incisions, and the surgeon views the area of operation from a monitor. However, da Vinci surgery includes 3-D clarity and a more advanced set of robotic instruments for the surgeon to see better and have greater control and range of motion compared to a human hand performing the surgery. The surgeon controls the equipment from a nearby console.
Treating Ovarian Cancer with da Vinci Surgery
During ovarian cancer treatment at Virginia Oncology, the da Vinci surgery method may be used to perform a hysterectomy removal of some or all of a woman's reproductive organs. da Vinci allows the doctor greater tissue manipulation to more specifically treat tissues affected by ovarian cancer. As a result, trauma is minimized, and patients typically have a shorter recovery time compared to open surgery.
The picture above shows the doctor sitting at the control system used to view inside the body and control the instruments that perform the ovarian cancer surgery.
The diagram below shows incisions typically made for da Vinci ovarian surgery.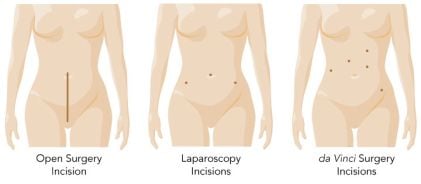 da Vinci Surgery Outcomes
Here are some of the positive outcomes for cancer patients when using da Vinci surgery over open surgery or laparoscopic surgery to perform a simple total hysterectomy which includes removal of the uterus, cervix and possibly ovaries and fallopian tubes. It may also involve lymph node removal.
da Vinci Surgery compared to open surgery:
Fewer complications1,2,3,4
Shorter hospital stay1,2,3,4,5
Less blood loss and less likelihood for transfusion1,2,3,4,5
da Vinci Surgery compared to traditional laparoscopy:
Fewer or similar complications1,3,4,5
Shorter or similar hospital stay1,3,4,5
Less blood loss1,3,4,5
Fewer or similar blood transfusions1,3,4,5
Similar time to perform surgery 1,3,4,5
At Virginia Oncology Associates, da Vinci surgery is performed for ovarian cancer hysterectomies, when recommended.
O'Neill, M., et al. (2013). Robot-assisted hysterectomy compared to open and laparoscopic approaches: systematic review and meta-analysis. Archives of Gynecology and Obstetrics. 287: 907-918.
O'Sullivan, S. (2011). HIQA Ireland Health technology assessment of robot-assisted surgery in selected surgical procedures.
Ran, L., et al. (2014). Comparison of robotic surgery with laparoscopy and laparotomy for treatment of endometrial cancer: a meta-analysis. PLoS ONE. 9: e108361.
Reza, M., et al. (2010). Meta-analysis of observational studies on the safety and effectiveness of robotic gynaecological surgery. British Journal of Surgery.
Gaia, G., et al. (2010). Robotic-assisted hysterectomy for endometrial cancer compared with traditional laparoscopic and laparotomy approaches: a systematic review. Obstetrics and Gynecology. 116: 1422-1431.