Preparing for Your First Oncology Visit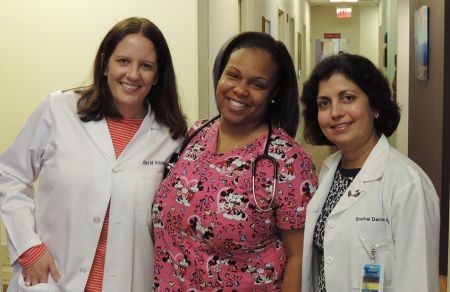 We want new patients at Virginia Oncology Associates to feel comfortable, cared for, and informed during an uncertain time in their lives. Here are some helpful things you can do before you arrive and on the day of your appointment.
This section includes helpful information about:
To avoid extra time in the clinic during your first visit, you can complete the patient forms before arriving. If you don't have a printer at home, we'll provide you with copies when you arrive. Please allow a little extra time before your appointment to complete them.
New Patient Packet - You can read this document before arriving. Or if you'd prefer, we'll provide a printed copy during your first appointment.
Health History Form - This form can sometimes take a little while to complete, and you may prefer to do it ahead of time. Print and write the answers on the document then bring it with you to your first appointment.
Other New Patient Forms - There are several other new patient forms that we will provide during your first appointment, or you can print and complete them at home if you'd like.
Go to the patient forms page >
Your first appointment will be comprehensive, so you should plan to spend an hour or two with us. During this time you are likely to do one or more of the following
Meet with your oncologist who will perform a new patient evaluation.
Take any additional lab tests needed for an accurate diagnosis that will help guide treatment.
Meet other members of the cancer care team who you will be visiting with in the near future. This could include nurses, medical assistants, and other members of our team.
Meet with your patient benefits representative (PBR). PBRs are located in every office to assist patients with the financial side of their diagnosis. Our Patient Benefits team will provide and connect you with valuable resources, as well as help you understand your current insurance benefits.
Services Available Through the Patient Benefits Team:
Ensure our patients and their families understand their insurance benefits and can access those benefits.

Provide clarity on billed charges and payment expectations.
Determine if financial assistance is needed and provide support to access needed benefits.
Assist with access to supportive financial foundations and organizations.
Provide follow-up and ongoing financial support throughout your time at VOA.
It is strongly recommended that you bring another person with you to your first appointment with the oncologist. Also, please bring as much of the following as possible:
A list of all prescription medications you are taking, or all of your prescription medications in a bag to show to your physician.
A list of all dietary supplements (herbal, etc.) you are taking, or all of your dietary supplements in a bag to show your physician.
Your completed medical history form, to discuss with your physician.
A list of any allergies.
Your ID
Your insurance and prescription cards.
Our office will attempt to obtain your medical records if you don't have a copy. In some cases, we may contact you for assistance in collecting the records.
Cancer Patients
If you have been diagnosed with cancer, please bring any of the following you may have:
Surgical pathology reports pertaining to the diagnosis
Latest lab work: especially blood counts
Any previous films and reports: PET scans, CT scans, MRI, X-ray, Mammograms, etc.
Any previous chemotherapy/radiation treatment notes
Physician's progress notes
Hematology Patients (blood disorders)
If you have been diagnosed with a blood disorder, please bring any of the following you may have:
Lab work for the last 3 -5 years, especially blood counts
Any previous films and reports: PET scans, CT scans, MRI, X-ray, Mammograms, etc.
Any previous bone marrow pathology reports
Physician's progress notes
If this appointment is for a second opinion, it will follow many of the same steps as a new patient evaluation. That's because we want to learn as much as we can about you before reviewing any other treatment plans or recommendations. Before you arrive, or when you arrive, you'll complete a new patient form.
For second opinions, you should bring:
Your medical records: including the diagnosis and stage
Most recent blood test results
Any images such as CTs, MRIs, or PET Scans
Biopsy results
The treatment plan that's been recommended
During your appointment, you'll have a discussion with one of our medical oncologists. If there is any information needed that is not in your records they'll order the test to be done and then you can discuss together what the doctor would recommend.
Feel free to bring someone with you who can take notes and help you remember what is discussed. This will help you feel more confident when it's time to choose an oncology team.
Remember, our doctors will never be offended if you do not choose them as your cancer care provider. They want what's best for you so please choose the practice where you feel most comfortable.
Dr. Gradon Nielsen, a medical oncologist from Virginia Oncology Associates, answers common questions about the safety and effectiveness of taking the vaccine while undergoing cancer treatment. It is important for cancer patients to receive the vaccine as they run a higher risk for COVID. Watch this video to learn more about the best time to take the vaccine based on your cancer treatment plan and if you still need it if you have been previously diagnosed with COVID-19.