da Vinci Surgery
Cancer Surgery Options
If your doctor recommends surgery for a cancer diagnosis, your oncologist at Virginia Oncology Associates will work with your medical team to select the type of surgery likely to have the best result for you.
Options include:
Open surgery requires an incision large enough for the doctor to reach inside and touch the area of operation.
Laparoscopic surgery requires only a few small incisions. The surgeon operates by manually manipulating long instruments that are viewed with a tiny camera attached to one that sends images to a video monitor to guide the surgeon during the procedure.
The da Vinci robotic surgery is similar to laparoscopic surgery in that it is also minimally invasive, uses small incisions, and the surgeon views the area of operation from a monitor. However, da Vinci surgery also includes 3-D clarity and a more advanced set of robotic instruments for the surgeon to see and control the surgery from a nearby console.
What is da Vinci Surgery?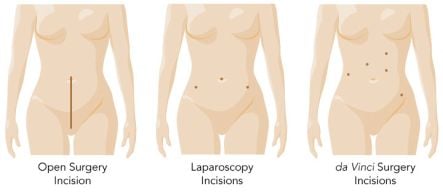 The minimally invasive da Vinci robotic surgery uses only a few small incisions to insert a thin tube with a tiny camera and a light at the end along with the surgical tools. The doctor can clearly see inside your body with the high-definition 3-D camera and magnification and uses da Vinci's more advanced set of specialized robotic instruments. The da Vinci tools can bend and rotate far greater than the human hand for more flexibility and precise treatment. Your surgeon sees and controls the surgery from a nearby console.
The picture above shows the doctor sitting at the control system used to view inside the body and control the instruments that perform the ovarian cancer surgery. The table to the right is where the patient lies during surgery with the instruments in place, responding to what the doctor is doing.
Advantages of the da Vinci procedure include:
Precise manipulation of tissue;
Minimal tissue trauma;
Improved visibility of the affected area;
Greater surgeon control during the procedure;
Typically a shorter patient recovery time than with open surgery;
The da Vinci System was the approved by the FDA (Federal Drug Administration) in 2000 and has brought minimally invasive surgery to more than 3 million patients worldwide – technology changing the experience of surgery for people around the world.
The gynecologic oncologists at Virginia Oncology Associates may discuss with their patients the option of using da Vinci surgery as a part of the ovarian cancer treatment process.