COVID-19 Vaccine Information
Dr. Cristina Alencar, one of our oncologists, receiving her COVID-19 vaccine!
Frequently Asked Questions About the COVID-19 Vaccine
Who should receive the vaccine?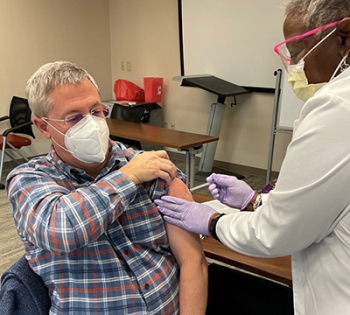 Everybody without contraindications (see below), particularly older patients, patients with significant comorbidities and immunocompromised patients should receive the vaccine. The timing of vaccination should be discussed with your treating physician, and the decision may vary based on the nature of your disease, and the treatment you are receiving and have received.
Who should not receive the vaccine?
Anyone who has had prior severe allergic reactions.
How will the vaccine be administered?
The vaccine will be administered to the arm as a two-shot injection 21-28 days apart.
What are the side effects?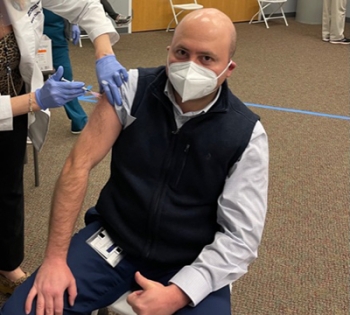 The side effects are similar to the flu vaccine, including injection site pain, redness, or swelling, tiredness and achiness, fever, feeling unwell, and swollen lymph nodes. But overall, the vaccine was well-tolerated and researchers will continue to follow the trial participants for a few years to see what the long-term effects might be. Given the high community transmission of COVID-19 and the potential for severe cases and death, the benefits of the vaccine likely outweigh the risks.
If a patient is immunocompromised, will they mount a response?
The response may lower than a healthy individual, but a lower response is better than none.
How soon after being diagnosed with COVID 19 infection should a person receive the vaccine?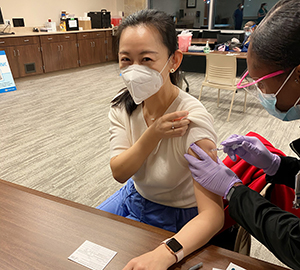 There is no minimal interval between infection and vaccination once a patient has recovered from acute illness due to COVID. You may defer for 90 days as the risk for re-infection for COVID-19 is low during the period.
Can a patient still get the vaccine if currently COVID-19 positive?
No. However, the testing is not routinely recommended prior to vaccination.
When will we receive the vaccine?
Because of the limitation of supply, the first line medical professionals and institutionalized individuals will be vaccinated first. We do not know when VOA will receive our lot, but we will keep you informed. Please contact your other healthcare providers for the availability as well.
Do I still need to wear a mask after getting vaccinated?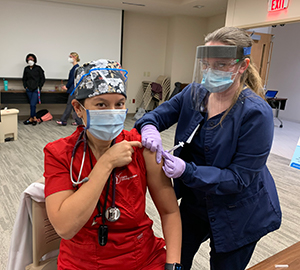 Someone who is vaccinated can still harbor virus and pass it to others. And some people can't or won't be vaccinated. That's why it's important to protect yourself and others by continuing to wear masks, avoid crowded areas and large gatherings, and practice good hygiene.