Awards & Accreditations - Virginia Oncology
QUALITY ONCOLOGY PRACTICE INITIATIVE (QOPI)
In 2013, 2016, and 2019, VOA was awarded the Quality Oncology Practice Initiative (QOPI) Certificate of Participation by the American
Society of Clinical Oncolog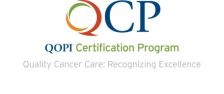 y (ASCO). QOPI is an oncologist-led, practice-based quality improvement program.
QOPI's goal is to promote excellence in cancer care by helping practices create a culture of self-examination and improvement. The process employed for improving cancer care includes measurement, feedback and improvement tools for medical oncology practices.
FOUNDATION FOR THE ACCREDITATION OF CELLULAR THERAPY (FACT) ACCREDITATION
After meeting rigorous clinical standards, the Autologous Stem Cell Transplant Program at VOA received accreditation by the Foundation for the Accreditation of Cellular Therapy (FACT). The program remains the first and only transplant program in Hampton Roads to earn this prestigious distinction.
VOA's Stem Cell Transplant program is one of three in the state of Virginia and 135 nationally. Sanctioned through FACT, the program adheres to the most stringent clinical standards. FACT accreditation is the gold standard insurance companies often demand. It is the benchmark for quality care. VOA first achieved accreditation in November 2003.
AMERICAN SOCIETY OF CLINICAL ONCOLOGY (ASCO) AWARD RECIPIENT
In 2004, VOA was one of ten practices nationwide to receive ASCO's prestigious award for accruing the highest number of eligible patients for clinical trials.
AMERICAN COLLEGE OF RADIOLOGY (ACR) ACCREDITATION - NUCLEAR MEDICINE
VOA has been awarded a three-year term of accreditation in nuclear medicine as the result of a recent review by the American College of Radiology (ACR). Nuclear medicine is a branch of medical imaging that uses small amounts of radioactive material, ingested by the patient, to diagnose and treat a variety of disease, including many types of cancers, heart disease, and certain other abnormalities within the body.
The ACR gold seal of accreditation represents the highest level of image quality and patient safety. It is awarded only to facilities meeting ACR Practice Guidelines and Technical Standards after a peer-review evaluation by board-certified physicians and medical physicists who are experts in the field. Image quality, personnel qualifications, adequacy of facility equipment, quality control procedures, and quality assurance programs are assessed. The ACR is a national professional organization serving more than 36,000 diagnostic/interventional radiologists, radiation oncologists, nuclear medicine physicians, and medical physicists with programs focusing on the practice of medical imaging and radiation oncology and the delivery of comprehensive health care services.
INTERSOCIETAL ACCREDIATION COMMISSION (IAC) - VASCULAR TESTING I ICAVL
VOA has been granted a three-year term of accreditation in Vascular Testing in the areas of Peripheral Venous Testing by the Intersocietal Accreditation Commission (IAC). Accreditation by the IAC means that Virginia Oncology Associates has undergone a thorough review of its operational and technical components by a panel of experts. The IAC grants accreditation only to those facilities that are found to be providing quality patient care, in compliance with national standards through a comprehensive application process including detailed case study review.
IAC accreditation is a "seal of approval" that patients can rely on as indication that the facility has been carefully critiqued on all aspects of its operations considered relevant by medical experts of Vascular Testing.