David Z. Chang, M.D., Ph.D., FACP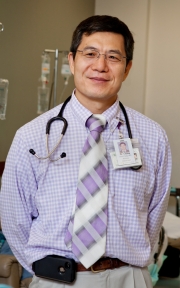 Specialties
Medical Oncology
Primary Location
Newport News (Port Warwick III)
1051 Loftis Boulevard, Suite 100
Newport News, VA 23606
Medical Oncology / Hematology:
(757) 873-9400
College
Taishan Medical College - China
Medical School
Dartmouth Medical School
Internship
Internal Medicine - Cleveland Clinic Foundation
Residency
Internal Medicine - Cleveland Clinic Foundation
Fellowship
Medical Oncology/Hematology - Memorial Sloan-Kettering Cancer Center
Board Certification
Medical Oncology
Internal Medicine
Biography
Dr. Chang is board certified in Medical Oncology and Internal Medicine. Prior to joining Virginia Oncology Associates, he served as Assistant Professor for Gastrointestinal Medical Oncology at one of the nation's premiere cancer institutions, the University of Texas MD Anderson Cancer Center where he developed and directed the Immunotherapy Program for Gastrointestinal Cancers. His accomplishments in cancer research have made him a sought after thought leader in the cancer community, specifically in the areas of colorectal and pancreatic cancer, neuroendocrine tumors, as well as other gastrointestinal cancers.
Dr. Chang received his MD and PhD (Pharmacology & Toxicology) degrees from Dartmouth Medical School, Hanover, New Hampshire. He completed his Internal Medicine Internship and Residency at Cleveland Clinic Foundation, Cleveland, OH, and his Medical Oncology/Hematology Fellowship at Memorial Sloan-Kettering Cancer Center, New York, NY.
Dr. Chang has been an invited speaker for many Colorectal Multidisciplinary Conferences and national and international meetings. He has received numerous awards for his cancer research, including the American Society of Clinical Oncology (ASCO) Young Investigator Award, ASCO Career Development Award, the American Association for Cancer Research (AACR) Fellowship in Clinical Research, AACR Career Development Award, CALGB Clinical Research Award, and several research grants from National Institute of Health (NIH)/National Cancer Institute (NCI).
Dr. Chang has published over 40 clinical and research papers in peer reviewed journals including Journal of Clinical Oncology, Clinical Cancer Research, Journal of Hematology & Oncology, Clinical Advances in Hematology and Oncology, Clinical Colorectal Cancer, Cancer Immunology and Immunotherapy, Journal of Biological Chemistry, etc. He also published give books/book chapters. Dr. Chang is a member of Advisory Board, Editorial Board, and journal review boards for several publications, including Journal of Hematology & Oncology, Journal of Chinese Clinical Oncology, Hope, Journal of Immunotherapy, Clinical Cancer Research, and Molecular Cancer Therapeutics.
Dr. Chang is a member of several professional organizations, including the American College of Physicians (ACP), ASCO, AACR, and International Society of Biologic Therapy for Cancer (iSBTC). He is also one of the Founding Board Members and the current President for the Chinese American Hematologist and Oncologist Network (CAHON).
During his free time, Dr. Chang enjoys a game of basketball and traveling. He is an accomplished Master martial artist in KungFu and has even performed in action movies in China.